Caring for Llamas and Alpacas
A Health and Management Guide
by Clare Hoffman, DVM and Ingrid Asmus
Published by Rocky Mountain Llama and Alpaca Association
Topics covered:
Buying a Llama or Alpaca
Traveling
Restraint
Nutrition
Herd Health
Teeth
See for yourself
Eyes
Wounds
Lumps and Bumps
Skin Disorders
Lameness
Heat and Cold Problems
Respiratory Problems
Digestive Problem
The Down Llama or Alpaca
Reproduction
Newborn
Mastitis
Giving Injections
Passing Stomach Tubes
Taking a Temperature
Normal Llama Vitals
Congenital Defects
Poisonous Plants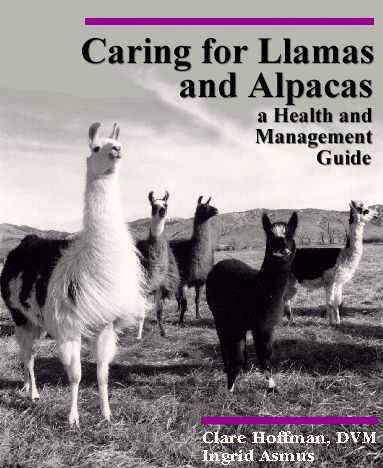 Sample Chapter Teeth See for yourself
New 1996 Second Edition . . . now with Alpacas!
8-1/2" x 11", 167 pages, Over 60 illustrations
A good reference for the experienced breeder, excellent gift for the new owner !
100% Satisfaction guarantee or your money back!
Order the new and completely updated Caring for Llamas and Alpacas
$23.95 plus $4.00 shipping and handling
Click Here to Order